12. August 2019 - Irak
If he had had the choice, Abdul would never have left his village. The man with the contagious smile is in his late forties and is someone who wants to get things done; someone who takes his role as village leader serious and wants the best for his community. In August 2014, as the fighters of the Islamic State drew closer, the village community decided to flee. Some only went as far as nearby Khanaqin, others as far as the 90 kilometres away Baaquaba or even further away.
Abdul, who stayed with his family in Baghdad, knew that he would return at some point. Rather sooner than later. In 2016, after a couple of years, he decided to go home again. He knew it would not be easy. The jihadists had destroyed the already dilapidated infrastructure even more: pipes were broken or missing completely, and there were bomb attacks that blew up water pipes again and again.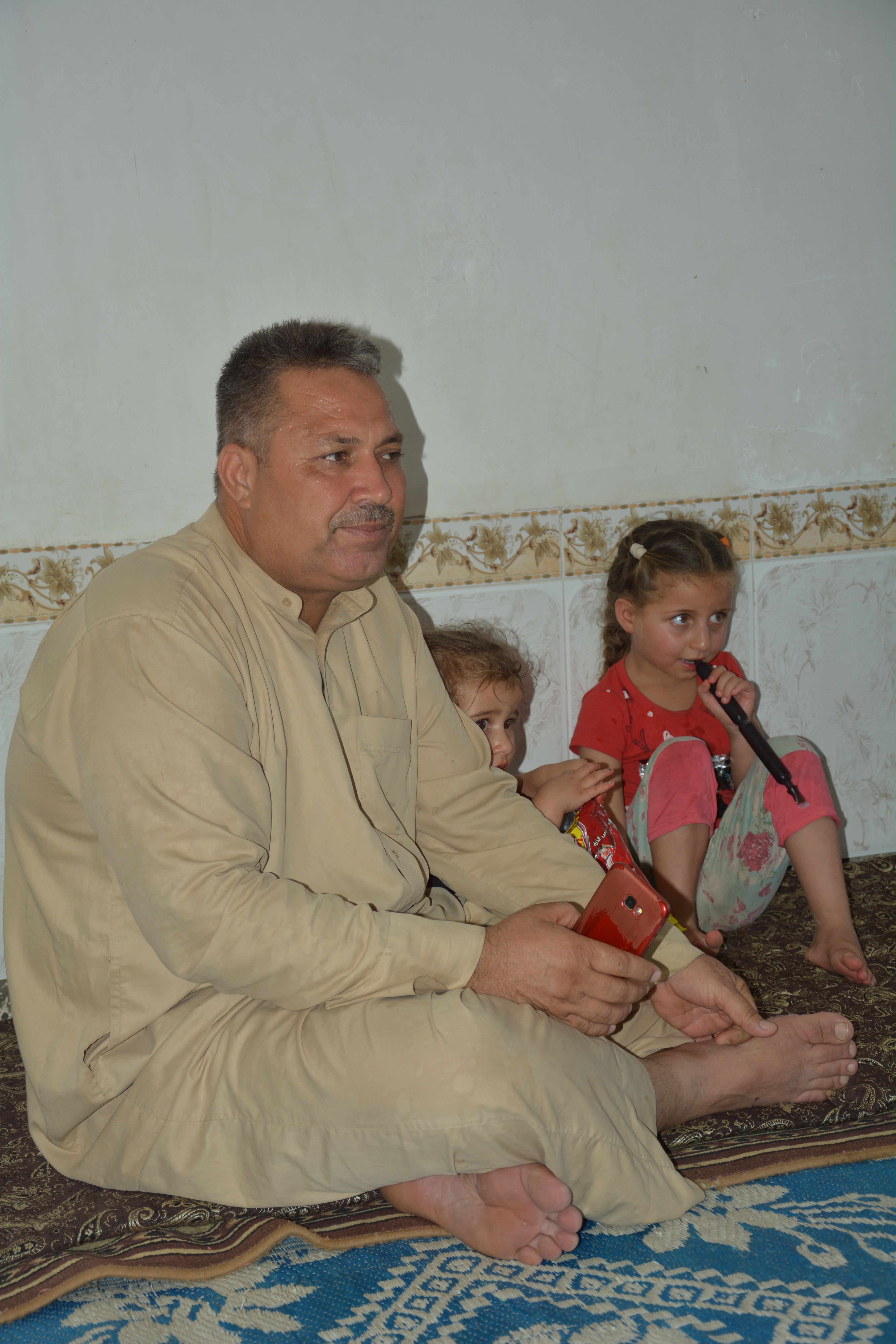 The most difficult thing after our return was to get clean water. The pipes leading from Jalawla to our village were broken. There were holes in the pipe, from which not only clean water leaked, but where earth and garbage got in and polluted the water.
Abdul Gafur Gaber, local leader of Said Jaber
A neighbor tells us that they often had to travel long distances to get any clean water at all. "The terrorists are to blame for the fact that no investments have been made here for years," complains Ammar Gaber from Said Jaber. And his wife tells us that the children in particular suffered under the difficult conditions. "We had to fetch water from the river, with small containers and jerry cans, which were often not really clean. Then the children got stomach pains and diarrhoea, that was the worst thing", says Imm Mohamad, the wife of Ammar Gaber.
Now she is all pleased that thanks to arche noVa the water system has now been comprehensively repaired. The project, which was realized by our Iraq team in Said Jaber, is a cooperation with the local water authority in Jalawla, financed by UN-OCHA. The project secured access to clean water for 5,000 people, including around 1,000 children. Throughout the Diyala region, the water infrastructure and sanitary facilities were also repaired in three schools and two health centres.
"We are happy to have water again everywhere in the village," says Mrs. Gaber from Said Jaber. "Now we can clean everything. It is also important for us women to make it clear to everyone that clean water is a high common good and that we are all responsible for treating the system with care".
For arche noVa, however, the work in Iraq is far from over. In the Diyala region, about 150 km northeast of Baghdad, there is missing a lot. This is partly due to the fact that the IS raged here for years, but also to the fact that due to political and economic instability there had been no investment in the infrastructure for years.
Our main focus, apart from providing for refugee camps, is currently on the returnee communities, i.e. the places where people actually come back to. We must also think of communities where, as a result of various crises, strangers have arrived who have then started a life in these places and will remain there. There are always difficulties, especially when there is a lack of resources for basic services.
Dominik Giese, arche noVa desk officer
Our project consultant for Iraq has just returned from a monitoring visit and knows what the people in Said Jaber most want: A primary school in the village, so that the small children don't have to walk so far on bad roads to the next school. And better medical care. But the fact that water is now flowing all over Said Jaber is an important sign of hope.