01.06.2023 - 12:11 - Welt
Menstruation is the most normal thing in the world and at the same time a major problem. This is due, on the one hand, to the fact that the subject is still heavily tabooed and, on the other, to the inadequate supply situation for millions of women and girls worldwide. In addition to hygiene products such as sanitary towels and tampons, women and girls also need toilets and washing facilities to be able to take good care of themselves during menstruation. All of this is lacking in sufficient quantities in many places around the world.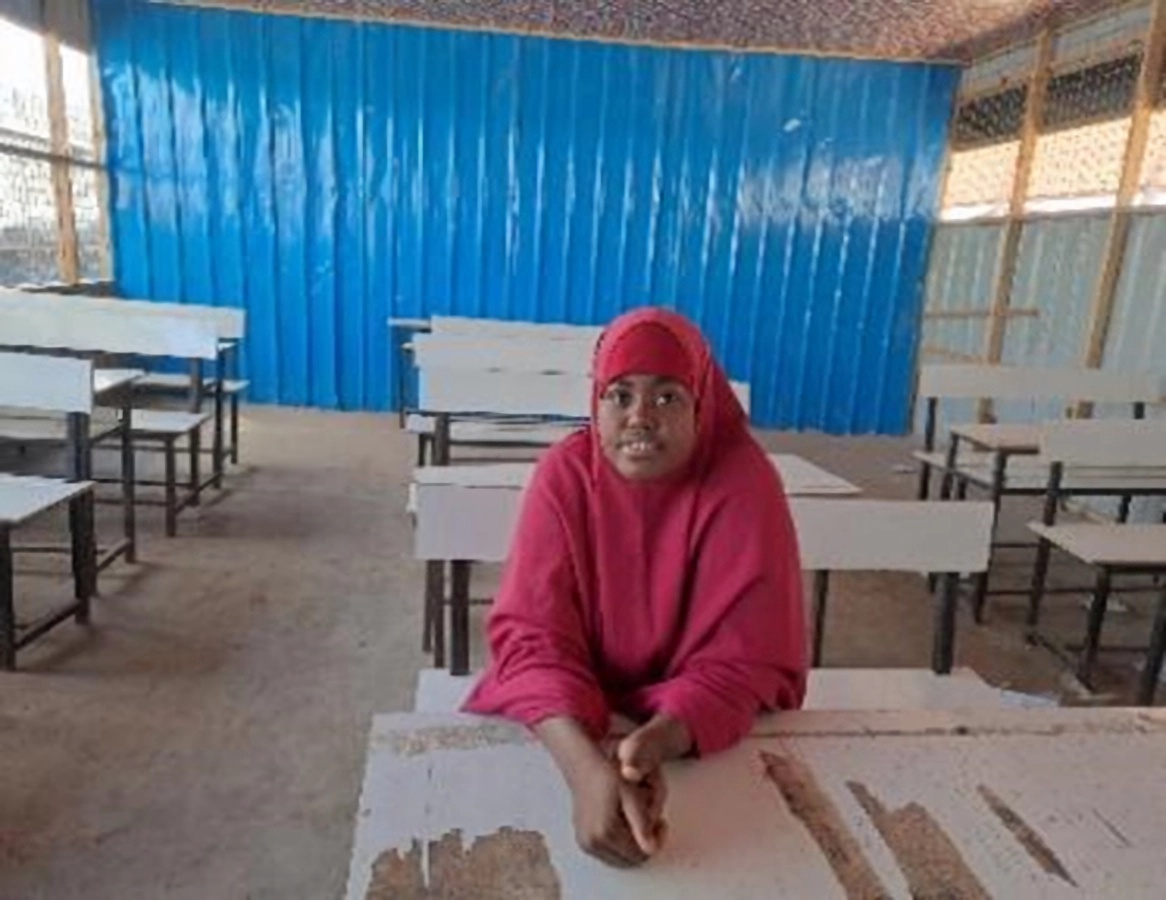 Warda Abdi Mohamed is one of the few female youths who are able to attend secondary grades in our Somali project area. School is the most important place for the 17-year-old on her way to a good education. But time and again she has been absent from class because she was afraid of the looks and remarks of others while she was menstruating. That is over now. Thanks to arche noVa, our local partner organization PAH was able to distribute washable sanitary towels to Warda and her classmates. Well supplied, they now go to class every day.
@arche noVa/PAH
Somalia: absenteeism and school dropout from menstrual age onwards
Particularly fatal: In many regions of the world, schoolgirls do not go to school during their menstruation. Unesco estimates that every tenth lesson in African countries is not attended because of the period. This was also the case for 17-year-old Warda Abdi Mohamed, who attends the Jowhar Bille School in our project area in Somalia. Like many of her classmates, her family does not have enough income to afford sufficient hygiene items. Often, sanitary towels are not even available on the local market, so the girls have to make do with scraps of cloth and other unsafe materials.
"I was absent from class at least five days a month because I was afraid of being ashamed or embarrassed," she tells our local partner organization PAH. School principal Mohamed Abdi Osman confirms that many girls have a high number of absences. As soon as they reach menstruation age, the majority of girls even drop out of school altogether. Thus, of the already comparatively few girls who attend secondary school in Somalia, only a fraction achieve the desired degree and thus the chance of a successful career and a good income.
Thanks to arche noVa, the situation and the future prospects for Warda and her classmates have improved significantly. During the last school year, 150 hygiene kits, each containing five washable sanitary napkins and one set of underwear, were distributed to the schoolgirls. "The sanitary napkins I received have boosted my self-esteem and made me more determined to study and achieve my goals in life," Warda says.
Uganda: Periods are also a man's business
Menstruation is strongly tabooed in many places. Women and girls are stigmatized and considered unclean during their period. For example, they are not allowed to touch other people, fetch water or prepare food. In other places, they are even expelled from the house by their families. "Do not enter" is also said in our project area in Uganda, if women or girls want to go by boat during their menstruation, the most important means of transport at Lake Victoria. In order to break such and other disadvantageous "traditions", arche noVa focuses on education, knowledge transfer, exchange and capacity building. In Uganda, our local partner organization KWDT regularly conducts workshops with village communities in the project area, for example in the village of Mbeya, where the topic of menstruation was openly discussed for the first time thanks to our project.
"The women reported that until now they had always regarded their periods as something purely personal and private, and were particularly careful not to let anyone know about it. But after the training, they realized that they do not have to hide their washed reusable sanitary napkins and are allowed to talk openly about their needs," reports Juliet Muthiani from the arche noVa East Africa regional office. In the workshops, there are always important "aha" moments for everyone involved - including the men. As elsewhere, they initially showed little interest in Mbeya. However, when it became clear that the poor infrastructure and the unresolved disposal issue posed a health hazard for everyone in the village, the men also became aware. It became clear to all that used disposable sanitary towels had no place in the lake, in the garden or in public, where they could also fall into the hands of children playing.
This realization motivated the men to take the issue seriously and support the creation of a pit for disposal. Interest was piqued and further challenges were discussed. The men wanted to know what menstrual hygiene products are used, where they come from and how much they cost. A lively exchange about very practical and medical issues related to menstruation began. Some women reported health problems. Many men then agreed to help women who are weakened during their menstruation with cooking or fetching water and to further question the taboos surrounding the topic.
"We're seeing red" is our motto on the topic of menstruation. Because arche noVa looks closely when women and girls are badly cared for and discriminated against during their period. At the same time, we call on all decision-makers to do more. The world needs an investment initiative in the field of water, sanitation and hygiene to enable good and sustainable development for all together.
Milena Hardt, Desk Manager Mali & Uganda
Kenya: Toilets and water are elementary
.
When it comes to menstrual hygiene, access to sanitary facilities and clean water are elementary for women and girls. Only in this way they can regulate their menstruation in dignity and protect themselves against diseases and infections. arche noVa builds latrines, washing facilities and water systems in project communities and at schools, where there is no or only insufficient water and sanitation supply. One example is our project in Kibera, the largest slum in the Kenyan capital Nairobi. At St. Juliet School, arche noVa has built a new WASH building. It secures the water supply and offers privacy thanks to gender-separated toilets. In addition, an incinerator was built especially for menstrual waste.
Syria: Menstruation does not pause in disaster
Women and girls are generally particularly vulnerable in crisis areas. The issue of menstruation further exacerbates their situation, because hygiene articles, access to water and toilets are then particularly limited or non-existent. Many girls and women then have no choice but to catch their bleeding with scraps of cloth, dirty cloths or leaves.
With this, they risk severe infections. In addition, there is the lack of privacy and infrastructure in emergency shelters, tent cities or unsafe places of refuge. arche noVa therefore includes menstrual hygiene in the emergency aid. For example, our distributions in the Syrian earthquake zone regularly include sanitary napkins.
arche noVa is campaigning for menstruation worldwide
.
Distribution of hygiene products in emergency aid and development cooperation
Toilet construction at schools, health facilities and in communities, taking into account the special needs of women and girls
Access to water for personal hygiene as well as for washing clothes and reusable hygiene materials
Promoting a positive approach to menstruation so that women and girls can make informed decisions about their lives and bodies
Breaking the taboo, overcoming discrimination against menstruating people through education, exchange and capacity building in project communities.
Our vision is a world without hardship, in which people can live self-determined and in dignity. For arche noVa, the topic of menstrual hygiene is absolutely part of this. Because no society can afford to keep half of the people small. Projects that empower girls and women are a particularly effective way to positive development for all.
Donate for this project
29
for the distribution of 100 packages with 10 sanitary towels each as emergency aid in the Syrian earthquake area.
105
for the distribution of locally produced washable reusable sanitary towels to a village community in Uganda
290
for the translation of illustrated educational material on menstrual hygiene into a local language (e.g. Luganda)
870
for the construction of a toilet cubicle for girls at a school in Myanmar
Menstrual Hygiene Day - Everyone can contribute
Menstrual Hygiene Day takes place on May 28. It draws attention to the needs of 1.9 billion people around the world who menstruate each month. It aims to shake up and break the silence on the topic. Anyone and everyone can participate and contribute to it,
that people can talk openly about their menstruation
that taboos are broken and prejudices are dismantled
that hygiene material becomes accessible in one's own environment (for example, for guests at home)
that period poverty is reduced (for example, through an in-kind donation of hygiene supplies to a school or homeless shelter)
that respectful interaction is practiced in the work environment, in the family and among friends
that aid projects focusing on menstrual hygiene are implemented worldwide.
arche noVa also gives the topic the space appropriate to the global dimension of the challenge, not least in Education for Sustainable Development (ESD), for example in the project day on development cooperation and humanitarian aid.
.